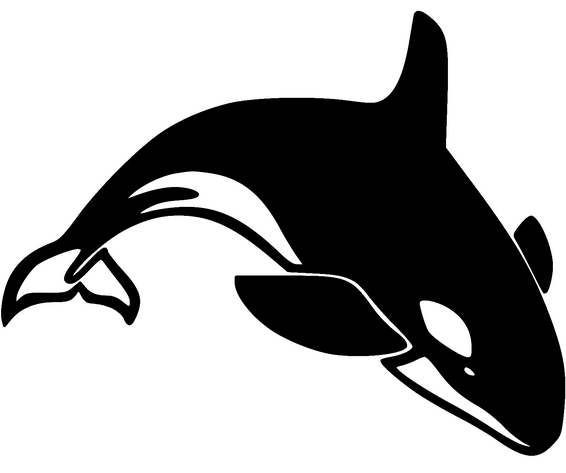 ---
Who are the Southern Resident Killer Whales?
The Southern Resident Killer Whales are a population of killer whales that live in the Pacific Northwest. They are often seen in the Salish Sea. Sadly, there are only 74 of them left. They are considered endangered. Their primary food source, Chinook salmon, are becoming increasingly scarce. Dams in the lower part of the Snake River are depleting the fish population, and this has left the Southern Residents with almost nothing to eat.

The Snake River, where the salmon frequently spawn, once saw annual salmon runs consisting of over 100,000 fish. Now that number is less than 10,000, and salmon survival rates are just 0.35 - 2%.  Dams prevent salmon from reaching their spawning ground, and young fish traveling downstream are often killed by turbines in the dams. They also increase the water temperature, which causes the fish to develop disease and die off. Federal taxpayers spend $550 million annually (and have spent over $8 billion in total) on ridiculous salmon "recovery" plans, like killing sea lions and trucking fish around the dams. Science overwhelmingly shows that these methods have not benefited salmon at all. Removing 4 of the lower Snake River dams - Ice Harbor, Lower Monumental, Little Goose, and Lower Granite - is the only way to help salmon populations recover and to feed the Southern Residents. These dams provide very little usable energy, and it would be cheaper and more efficient to invest in other forms of clean power instead. These dams increase the risk of flooding in many areas, and the water level at the dams is already higher than many of the surrounding cities. The revenue that would be generated by salmon recovery through fishing and tourism would help local communities grow, and would pay back the cost of removing the dams in just a few years.

The solution to saving the Southern Residents is simple. We must take down the dams. Salmon are resilient, and without the dams their population will rebound quickly. We can't afford to wait around any longer. Every day that the dams stay up is another day that the Southern Residents go hungry.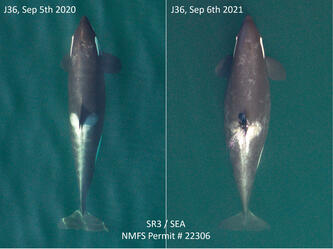 L41 "Mega". Photo Credit: Dave Ellifrit
---
How can I help?
---
Why should I care?
Killer whales are extremely intelligent and emotional animals. Each population has their own diet, language, and culture. Different populations never interbreed and barely even interact. Each groups vocalizations are so unique that killer whales that have been separated from their families for decades can still recognize them, and they hang onto those vocals for their entire lives. Killer whales live in groups of family members known as pods, and calves spend their entire lives with their mothers. Mothers pass down their languages and traditions to their calves. Pods care for their sick and injured members, mourn their lost family, and are even known to carry the bodies of deceased whales around for days. The nutritional stress caused by a lack of food means that many of these whales develop health issues and die young. 70% of pregnancies in the Southern Resident population do not succeed. Here are just some of the heartbreaking stories of the Southern Residents.
In 2016, J28 "Polaris" passed away, leaving her 10 month old son, J54 "Dipper", behind. His 7 year old sister, J46 "Star", tried to keep him alive by bringing him fish to eat- but the lack of fish meant that she couldn't get him enough food to eat. He became delirious from illness and hunger, and he stopped swimming. Desperate to keep him alive, his sister would grab his body with her teeth and bring him to the surface to breathe. This lasted for days, and his body became covered in bite marks. Sadly, he eventually succumbed to starvation and illness and died.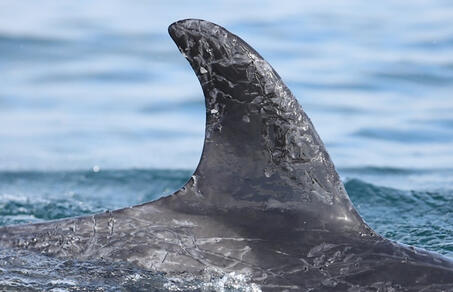 J52 "Dipper" covered in bite marks. Photo Credit: Kenneth Balcomb
In July of 2018, J35 "Tahlequah", a female killer whale, lost her calf just minutes after birth. The grief-stricken mother carried her daughter's body for over 1000 miles on a "Tour of Grief" that lasted for 17 days. The entire time she refused to leave her daughter behind, carrying the body even when she was visibly weak and losing weight.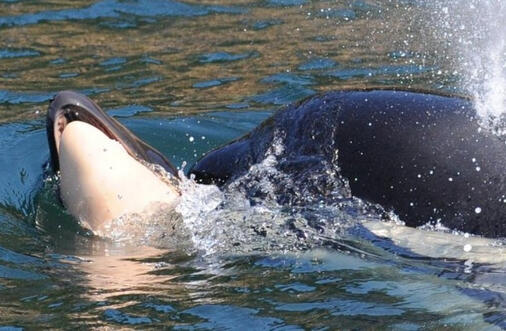 J35 "Tahlequah" and her deceased calf. Photo Credit: Center for Whale Research
In July of 2021, K21 "Cappuccino", a beloved member of the Southern Residents, became extremely sick. When boaters spotted him he was so emaciated and malnourished that his dorsal fin had fallen completely over. He was so weak that he couldn't even battle the current and barely kept himself upright. He passed away soon after, likely later that day.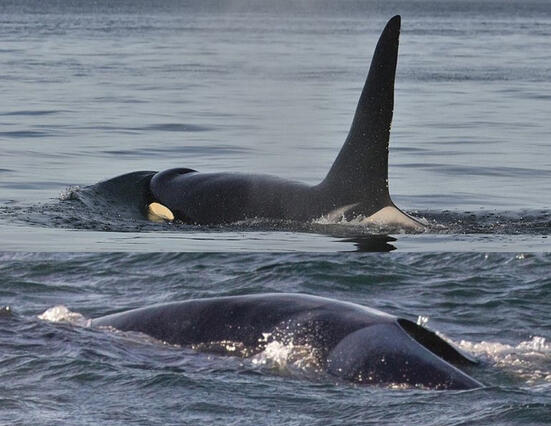 How K21 "Cappuccino" looked when he was healthy (top) and when he was spotted in July 2021 (bottom). Photo Credit: Center for Whale Research and adventuresbyhip
In September of 2021, scientists sighted J56 "Tofino" and noticed that she was in bad shape. She was very underweight and her skin was pale. At just 2 years old, Tofino is starving to death. Although her condition has worsened significantly, she has sadly been thin for her entire life. She has probably never known what it's like to not be hungry. Her mother lost 6 calves before Tofino was born, and was seen carrying the body of her dead baby in 2016. She will likely be devastated if Tofino passes away. We can't let her die. Tofino has her whole life ahead of her and she deserves a chance to live it out.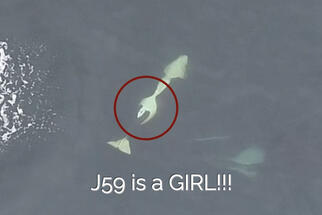 J56 "Tofino" and her mother, J31 "Tsuchi". Photo Credit: Michael Weiss
Thankfully, there is still hope for the Southern Residents. On September 4th, 2020, "Tahlequah" gave birth to a new calf, a son named J57 "Phoenix" by researchers. Only a few days later another calf, J58 "Crescent", was born to J41 "Eclipse". In January of 2021, L86 "Surprise!" gave birth to a daughter named L125 "Element". Their births are incredibly important to the struggling population. With the dams in place, the chances of them surviving into adulthood are slim. In a population this small, every birth matters and we need to protect these calves. They do not deserve to die.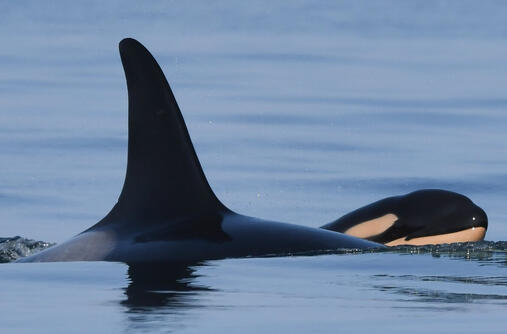 J35 "Tahlequah" and her son, J57 "Phoenix". Photo Credit: Katie Jones, Center for Whale Research
---
---
WASHINGTON RESIDENTS: Find your local representitive here!
---
President Joe Biden
1600 Pennsylvania Avenue NW
Washington, DC, 20500
Phone: (202)-456-1111
Website: The White House
Twitter: @JoeBiden, @POTUS
Email a message!
Vice-President Kamala Harris
1600 Pennsylvania Avenue NW
Washington, DC, 20500
Phone: (202)-456-1111
Website: The White House
Twitter: @KamalaHarris, @VP
Email a message!
U.S. Department of the Interior
1849 C Street, N.W.
Washington, DC, 20240
Phone: (202) 208-3100
Email a message!
Website: U.S. Department of the Interior
Twitter: @Interior
Washington Governor Jay Inslee
PO Box 40002
Olympia, Washington, 98504-0002
Phone: (360)-902-4111
Email a message!
Website: Jay Inslee
Twitter: @govinslee
United States Senator for Washington, Senator Patty Murray
2988 Jackson Federal Building 915 2nd Ave
Seattle, Washington, 98174
Phone: (206)-553-5545
Email a message!
Website: PattyMurray.com
Twitter: @MurrayCampaign

United States Senator for Washington, Senator Maria Cantwell
511 Hart Senate Office Building
Washington, DC, 20510
Phone: (202)-224-3441
Email a message!
Website: Maria Cantwell
Twitter: @Senator Cantwell
Idaho Governor Brad Little
State Capitol, PO Box 83720
Boise, Idaho, 83720
Phone: (208)-334-2100
Email a message!
Website: IDAHO Office of the Governor
Twitter: @GovernorLittle

Oregon Governor Kate Brown
State Capitol Building, 900 Court Street NE, 160
Salem, Oregon, 97301
Phone: (503)-378-4582
Email a message!
Website: Meet The Governor
Twitter: @OregonGovBrown
---
Elliot Mainzer, Administrator of Bonneville Power
Bonneville Power Administration
905 NE 11th Ave
Portland, Oregon, 97232
Phone: (800)-282-3713
Website: bpa.gov

Lieutenant General Todd T Semonite
U.S. Army Corps of Engineers
Phone: (202)-761-0011
Email a message choosing "Civil Works"!

U.S. Army Corps of Engineers
441 G Street NW
Washington, DC, 20314-1000
Phone: (202)-761-1878
Email a message choosing "Civil Works"!
Website: usace.army.mil

U.S. Army Corps of Engineers, Walla Walla District Public Affairs
201 North 3rd Avenue
Walla Walla, Washington, 99362-1876
Phone: (509)-527-7020
Email a message choosing "Civil Works"!

National Oceanic and Atmospheric Administration Western Regional Center (NOAA)
7600 Sand Point Way NE
Seattle, Washington, 98115
Phone: (206)-526-6150
Website: NOAA Western Regional Center
---